For The Past 10 Years Microsoft Has Been Brainwashing
Your Website Visitors To React In A Certain Way...
This Brand New Plugin Taps Into That Psychology, Grabs Your Visitors By The Eye-Balls & Forces Them To Click On
Any Link You Want!
This is a time limited special offer. The special early bird discount will end & The price WILL
go up when the count down timer hits zero... Click the button below to secure your discount today!
We will soon be selling the Covert Action Bar plugin for $67. But you will
save over 75% when your order from this special early bird page today!
---
"How A Yellow Line, A Single Sound Byte & One Line Of Text Turned A Few Clicks A Week Into Thousands Of Clicks Per
Day & An Unstoppable Avalance Of Leads & Sales!"
From: Soren Jordansen & John Merrick aka The IM Wealth Builders
Subject: Getting an insane amount of clicks, leads and sales from your blogs.
As you no doubt know, blogging is one of the most effective ways to generate free traffic these days. Google loves WordPress blogs and with very little effort you can easily rank high and get loads of traffic to your blogs.

But it can be very hard to convert all that great Google traffic into actual leads and sales.

You see... most of your blog visitors have gone completely "ad blind"

They've seen all the banners before - they know they are being sold to and they don't like it.

The automated amazon review blog you set up last week ... they've seen 100 identical copies of that and they are not going to buy anything from it!

And that Aweber form on your side bar... well good luck with that!

It's not all doom and gloom though

When you have the sort of high quality traffic a blog can generate, it is easy to convert it into leads, sales and affiliate commissions...

You just need a fresh approach

Something your visitors haven't seen before...

Yet something that taps deeply into the human psychology and your visitor's fear of missing out on something...

And that's exactly what the Covert Action Bar 2.0 is designed to do.

But before we get into the details we need to examine...
Why Pop Up Blockers Were The Best Thing
That Ever Happened To Pop Up Advertisers!
Remember the days when the internet was littered with pop ups and your screen could look like this...?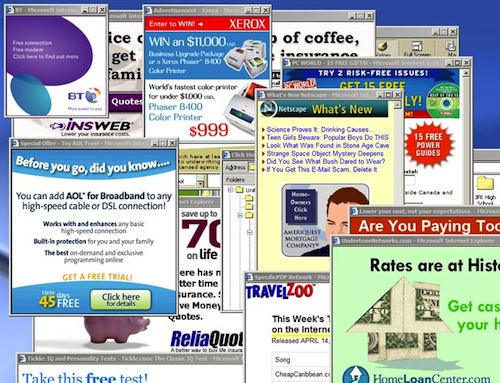 Well those days are over...

Because every single browser out there from Internet Explorer to Fire Fox and Chrome have in-built pop up blockers now (and have had for 10+ years)

Sure there are still pop up ads all over the web - but the savvy advertiser have moved on to using various pop-unders and other stuff that does not get blocked.

I'm sure you'll recognize the result...

90% of the pop ups your browsers block are actually stuff you want to see!

Just look at this example... I wanted to preview an email I was writing in iContact (my autoresponder) - and bang I got hit with a pop up blocker

Now here's the thing... That pop up blocker bar looks almost the same in every browser. Some form of yellow bar with a text message on it and something to click (in order to see what was blocked, allow it to display etc) - and a very distinct sound will play too.

For the past 10 years we have all been conditioned to pay attention to those bars!

We know that we missed out on something

We know that the bar contains information on what was blocked

We know that there is something to click so we can unblock the pop up if we want to

And lets be honest - since mostly good stuff is blocked these days, every time you get one of those pop up blocker message you notice and you go to see what was blocked - everybody does!

The advertiser who still use the old school pop ups are banking on this fact! They know that...
Curiosity & The Fear Of Missing Out
Is Deeply Embedded In The Human Mind!
And because of this they are seeing better results from their ads now than before pop up blocking browsers became the standard (even though they of course receive fewer ad displays).

When we realized this... the proverbial penny dropped for us!

We thought... If these big software companies have been training people for years to - react to a specific sound, look at and read the text on a yellow bar and click that bar to see what they missed...

Why don't we mimic that format completely and serve ads like that on our blogs?

And that's exactly what we did... and thus Covert Action Bar was born.

Lets take a look at exactly...
How Covert Action Bar 2.0 Works & How It Uses Deep Rooted Psychology To Almost Force People To Click Your Ads!
First of all the Covert Action Bar is a super simple to use and install (1 click install) WordPress plugin. That means the software will work on any computer, all you need in order to use it, is a self hosted WordPress blog.

After you have installed and activated the plug in (only takes a few seconds) you will see a plugin admin panel like this...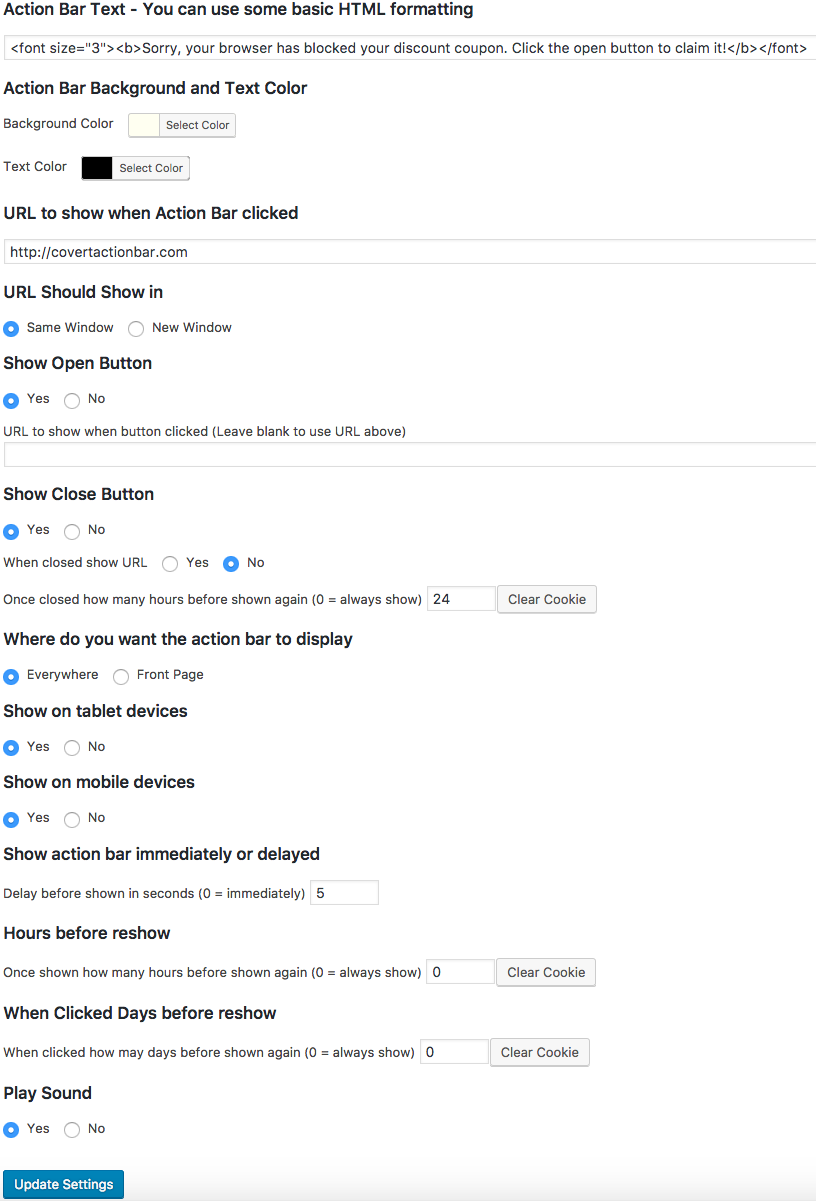 As you can see you can...
Write any text you want on your Covert Action Bar. You can even use HTML to make text bold, use different colors and lots of other effects


Easily change the background- and font colours on you bars


You can link your Covert Action Bar to any page you want. Affiliate links, CPA offers, your own sites etc.


You decide if the link should open in the same or a new window when people click your Covert Action Bar.


Choose if you want your Covert Action Bar to display only on the front page of your blog, or on all pages and posts.


Disable your action bars on tablets and/or mobile phones


Show your Covert Action Bar immediately, or set any delay in seconds you'd like
And in just a couple of minutes you can have a Covert Action Bar live on your blog.

It will look like a normal pop up blocker notification from Internet Explorer - It will even play the same familar sound!

Your visitors will instinctively be drawn to the bar to see what was "blocked"

And then you will have a fully clickable ad there looking something like this...

Do you think people will click that ad?

You bet they will - in fact our test have proven that...
Covert Action Bar Gets More Clicks & Better Conversions
Than All Other Ad Forms Combined On Our Blogs!
And the many uses of this powerful plugin are only limited by your imagination...

Here are just a few of the highly effective strategies we have used ourselves...
On a review blog - make a Covert Action Bar that offers a discount but tell them it was blocked. Then ask them to click the link to claim their coupon!


Offer a freebie related to the content on your blog. Make it seem like the download was blocked and ask them to click in order to grab it (then link your squeeze page).


Use the same technique to link to CPA offers related to your blog. They won't click your banners, they have seen them all before. But they will click your Covert Action Bar and you can start counting the $$$!


And of course much more...
There are literally hundreds of different ways to use this plug in

The only thing that's certain is that...

It will get people's attention & they will click on your ad!

And...
For A Limited Time Only You Can Get Your Hands On The Brand New Covert Action Bar 2.0 Plugin At The Special Low Early Bird Price!
Even though this plugin is super simple to use - It's still more powerful that any other ad format you have ever tried on your blog.

Obviously people are willing to pay big for simple to implement technology that has been proven to increase clicks, subscriptions and sales

And we fully intend to release this at a much higher price later on - $67 or more!

But right now, and from this special page only... You can get your hands on the Covert Action Bar 2.0 plugin for a fraction of that!

And when you order today you'll be "grandfathered" in and receive free updates for life

For the next few people who order we'll even add...
Yep, you read that right!

If your order the Covert Action Bar plugin from this special page today, we'll even include multi-site and site flipping license at no extra cost!

That means you can...
Use the Covert Action Bar 2.0 on as many of your own blogs as you like - existing and future ones!


You can even use it on blogs you build for clients or on blogs you flip for profit!
But as I said this early bird special is very time limited.

The price will go up

And you will certainly not see multi and site flipping license included at this low a price, ever again!

So take action today and...
Click The Button Below To Secure Your Copy Of The
Covert Action Bar 2.0 Plugin Before The Price Goes Up!


Order online safely and securely
100% Secure, Full Encryption Is Being Used
You'll receive your order instantly even if it's 2 am!
See you inside...
Soren Jordansen & John Merrick
Soren Jordansen & John Merrick
"The IM Wealth Builders"
P.S. The only way you can lose here is if you walk away empty-handed... This really is the most effective way to generate more clicks, leads and sales from your blog!

PRODUCT GUARANTEE: We'll be totally straight with you here... If you plan on purchasing then asking for a refund, please don't order a license. This is a very limited offer, so if you are not 100% committed then leave the license for other people who are and who will put it to good use. We only want to work closely with serious marketers and genuine folks that are ready to take their business to the next level.

But because we want you to start today with total peace of mind your investment is backed up by a full 45 day money back guarantee - You will be ordering with confidence and this eliminates any kind of risk on your part.